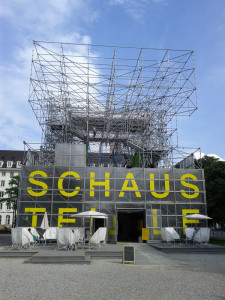 After 7 months of renovation work, the Pinakothek der Moderne will open again for the public on September 14th 2013. Unfortunately, this good news has a negative side effect: With the reopening, the SCHAUSTELLE will close its doors.
The SCHAUSTELLE was opened in April right next to the Pinakothek der Moderne to bridge the long waiting time – and to offer an experimental platform for the four now homeless museum (Architecture, Modern Art, Graphics and Design) for multidisciplinary expositions, workshops, presentation, performaces, movies, video art etc.
This chance has been (and still is) taken quite well:
For example for the planification of the temporary village Schauing, that has been created with 30 wooden structures. Citizens and artists have been invited to bring the village to live with creative project ideas. Among others, a yodel workshop, music, presentations, lectures, a  book exchange shelf and many other opportunities for the visitors to interact with others are offerd there.
The "main building" of the SCHAUSTELLE, a strange scuffolding constructure, is for example used for performaces and interactive theatre presentations. The 150m2 terrace on the 1st floor offers lots of room for that. You should also visit the viewing platform in the height of 17m – the strangest table tennis in Munich alone is enough reason for that.
The furniture of the SCHAUSTELLE has been developed at the chair for product design of the Academy of Fine Arts in Munich and is also worth to be mentioned. In the lounge and coffee shop area for example, the seats are made of paper only (20000 sheets), using chinese folding techniques.
As you can see, there are quite some reasons to pay a visit to the SCHAUSTELLE before it closes forever.
The opening hours are from Wednesday until Sunday from 12:00 until 20:00 (and longer, when there are special events). The entry is free of charge.
The best way to get there is by public transport.