The Munich Greeter public walk on 16.06.2013 "Für a Brot, a Wurscht und a Bier hat´s immer g´langt – Lebensmittelversorgung in München" (For bread, sausage and a beer it was always enough – food supply in Munich):
After we left our meeting point, the Feldherrnhalle, we stopped at a long existing institution right across the street. The Pfälzer Weinstube (Palatinate Wine Tavern). But was has Palatinate to do with Munich and Bavaria?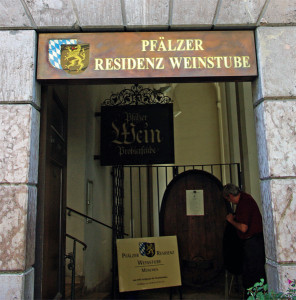 Nearly 100 years the Palatinate ("Rheinpfalz") belonged to the kingdom of Bavaria. The wine from Palatinate is therefore somehow part of the Bavarian culture even if Palatinate is not part of Bavaria anymore.
Our route continued to the old-established Confiserie Rottenhöfer. A Munich institution in pastries and cakes and former "königl. bayerischer Hoflieferant" (official purveyor to the royal Bavarian court). Unfortunately the Confiserie closed (after 188 years of business) on June 30th 2013. It is said that this Cafe was the favourite one of former pope Benedict XVI. After we had a look at Rottenhöfer (probably the last time),
we went on to delicatessen shop "Eilles", where Greeter Insa told us a story about the Munich pretzel and also gave us some to taste.
Now we went on, heading to the inner city where we stopped by the (in Germany) most known former official purveyor to the royal Bavarian court – Dallmayr. This impressive delicatessen shop is also a Munich institution and known all over Germany, especially because of its coffee. Here in the flagship store you can also buy high class liquors, cigars, filled chocolates, caviar and other delicacies. Because the store is near the inner city, it is heavily frequented by tourists. E
specially in the summer the well known ladies from the TV-commercials in their neat blue female suits and their white aprons have a lot to do to master the stampede of shoppers. It's better to visit Dallmayr weekdays outside the official holidays :-).
Our route continued to the "Pfistermühle" (old German for wheat mill), which is today a restaurant but used to be wheat mill in former times. Then we reached the most known place in Munich, the Hofbräuhaus, because beer was and is considered food in Bavaria.
Finally we ended at the "Viktualienmarkt" the most known (daily) food market in Munich. Here we had a good time in the beer garden.