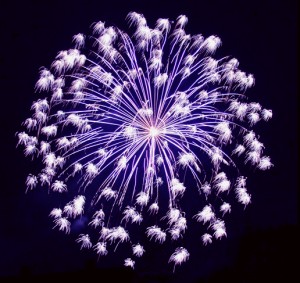 As the year is slowly drawing to a close, the question arises where to see the fireworks on New Year´s Eve. If you do not want to fire off rockets in front of your hotel, you have a lot of opportunities in Munich to watch more or less spectacular fireworks. Below you find my personal list of places "to go" and "not to go":
Theresienwiese
The biggest plus of the Oktoberfest area is its vast extent. Here residents from the surrounding neighborhoods flock the place, carrying bottles of sparkling wine and rockets. But even this large crowd quickly spreads out over the entire area. There is enough space for everybody to set up his own fireworks. On midnight the dark sky is flecked with colourful explosions. The statue of the Bavaria, the church of St. Paul and the vividly illuminated Tollwood festival complete the picture. To welcome the New Year, enjoy another glass of sparkling wine and a waltz at the Bavaria´s feet.
Donnersberger Brücke
If you are looking for a viewpoint from a bridge, this is a good alternative to the more centrally located and overcrowded Reichenbachbrücke. The sight of the city´s skyline and the towers of the Cathedral Church of Our Lady is marvelous. Besides, you get a great panoramic view of the fireworks all over the city.
Friedensengel
Another partyzone. The view from the Friedensengel into Munich´s night sky is beautiful. As a lot of people want to enjoy it, around midnight a dense crowd is milling around the angel´s column and on Prinzregentenstraße. Here and there stray bangers explode. The air is obscured by clouds of smoke. If you like that, join the party-crowd. If you don´t like it, just take a stroll along the riverside a few steps further down.
Marienplatz
On New Year´s Eve, Munich´s best-known square is jam-packed. Locals and tourists cluster in front of the brightly illuminated new town hall and count down the last ten seconds until midnight. Rockets and bangers are fired off everywhere and in every direction. The air is close and smells strongly of gun powder. My steps crunch on broken glass. Somebody has spilled champagne on my coat. Let´s get out of here!
Of course, this list of locations could be continued. But wherever you decide to celebrate – we wish you an enchanting night of New Year´s Eve and a Happy New Year!