Every two to three months we Munich Greeter stroll through a quarter in Munich and look at unfamiliar corners. This Sunday, the slaughters quarter was our goal.
Meetingpoint: Goetheplatz. From there it is only some steps to a brewery. At the Häberlstraße, Paulaner used to brew its beer. Today, only an inn plus beer garden is left over. Paulaner is headquartered at Munich Nockherberg, where they also brew today. In the future however, Paulaner wants to invest a hundred million Euros in the construction of a brewery in Munich Langwied. 2016 production will start there. Administration and sales are to remain at the Nockherberg.

Next stop: the actual slaughters quarter. At lunchtime, you can have a cheap meal here. In the picture below, you can see a part of the still active abattoir facilities.

Just around the corner there is the best Weisswurst butcher (Weisswurst = white saussage – bavarian speciality) in Munich – the butcher Bauch.

P>
Next, we went towards Ehrengutstraße. Here you can find one pub next to the other. And if you feel the Glockenbach quarter too touristy, the Ehrengutstraße is a great alternative.

P>
A few meters away lies the Roeckl place whith the Roeckl fountain. And yes, it was actually donated by the famous Munich glove manufacturer – "to beautify the company's location in Munich"

P>
Who wants to meet monks in Munich should walk by here at the Kapuziner monastery in the Kapuzinerstraße.

P>
The long red, overgrown wall is part of the old southern cemetery.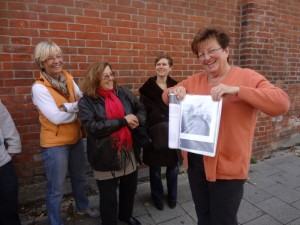 P>
The wall had been destroyed during the war and even today you can see where it was patched up.


P>
There is Munich's high society of the 19th century buried.


P>
The first woman to be buried in this cemetery, was Perennat. It was the end of the 18th Jh (!). Before, only men had their graves at the cemetery.