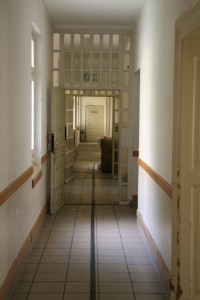 Artists will reign where in former times bad girls had to serve their young offenders sentences. From 18th to 21st July the VARIÉTÉ LIBERTÉ will give a guest performance at the Justizvollzugsanstalt (JVA) Neudeck in Munich's neighbourhood Au. Five artists of fine arts will bring colour to the monotonous prison walls, create sculptures from foam and textile art works from old clothes or bicycle tubes.
Stephanie Müller, Susu Gorth, Klaus Erich Dietl and the duo Labor 45 are the artists willing to put their installations behind bars. During VARIÉTÉ LIBERTÉ they will create art works especially invented for the former prison. The visitors are invited to accompany them growing and coming to life.
In the evening, an exclusive poetry and music program invites to the beer garden and open air stage. Among others, Rosalie und Wanda, Pollyester and poetry DJ Rayl Patzak will present their skills and invite to dance.
And as if that was not been enough, a short film cinema, silk screen printing workshops, a fashion kiosk with local brands and the "Tour de la créativité", a city walk discovering hidden art in Munich's streets, will contribute to the creative atmosphere.
VARIÉTÉ LIBERTÉ (link to German web page)
18th – 21st July 2012, 2:00pm – 0:00
JVA Neudeck, Am Neudeck 10, München
Admission from 18 years of age. The entrance is free.