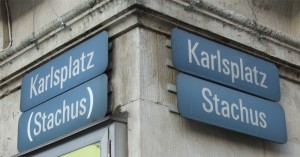 Lots of places in the world have nicknames. Normally, those are not used in official contexts. Just another example to show that Munich is different.
The Karlsplatz might be the only place worldwide whose nickname – Stachus – officially appears on maps. The square in Munich's city centre is named after Prince-Elector Charles Theodore (Karl Theodor), who at the end of the 18th century started tearing down the city wall. Even though it offered no more protection against modern military techniques, the citizens felt safer with it. Their worries about their security contributed to their negative opinion of the Prince-Elector and to their refusal of the name Karlsplatz.
Instead, they preferred to call the square after innkeeper Eustachius Föderl, who sold beer at one side of the square. The inn doesn't exist anymore, but "Stachus" continues to be more popular in Munich than "Karlsplatz". In the underground the drivers do not even mention the official name.
The Stachus is situated in between the central station and the Marienplatz. Two metro lines and the urban rail system meet here. There is also an underground shopping passage with some delicious food stores – we recommend the shop with the french fries and the one selling mashed potatoes and pretzels 🙂